The main purpose of the app is to help you to identify and capture the skills that you got got at the different experiences in your life.

To start adding skills to your profile, on the "CV" page of the app, click that "Add Skills" button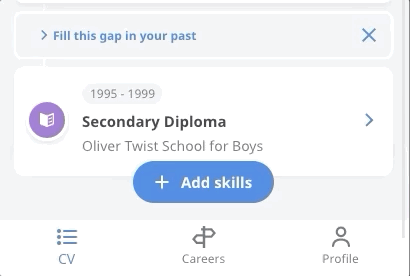 There are many ways to add skill to your profile, including from:
From Jobs

A job is any period of time at which you were earning an income or subsistence by working. This can include working for an employer such as a company, a public institution, or other organization. But it can also include independent work, such as owning a business or company, as well as self-employment such as independent farming or operating a fruit and vegetable stand.



From Education

An education experience is a period of time during which studied or learned valuable material for the purpose of increasing your employable knowledge. An experience might be certified by a diploma ranging from higher education to online certificates, and can also include courses you have taken that may not have issued a certificate, such as an online video series.




From Other Experiences

The "Other" experience option allows you to enter any experience into your timeline which some might call "informal". Formal jobs and eduction are not the only way that we learn valuable skills - too often we overlook critical skills and knowledge we obtain from such important experiences like raising children, engaging in community service and volunteering, hobbies, and activism. Make sure to include such experiences in your timeline to highlight the skills you obtained at them!